Archives
October 2003 November 2003 December 2003 January 2004 February 2004 March 2004 April 2004 May 2004 June 2004 July 2004 August 2004 September 2004 October 2004 November 2004 December 2004 January 2005 February 2005 March 2005 April 2005 May 2005 June 2005 July 2005 August 2005 September 2005 October 2005 November 2005 December 2005 January 2006 February 2006 March 2006 April 2006 May 2006 June 2006 July 2006 August 2006 September 2006 October 2006 November 2006 December 2006 January 2007 February 2007
---
Fund free mammograms at no cost to yourself by clicking on the link, then on the pink button.
---
---
Hall of Shame (NoteUnworthy Blog Posts)
Other Blogs (sorted regionally)
Ontario Emperor Selected del.icio.us Tags
;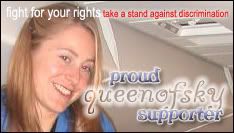 Who Links Here
Friday, October 31, 2003
Day Grocer
Reformation Day 2003
with no apologies to Jack London

The day grocer keeps company stores open
while the company provides a stick-on name tag.

The day grocer ensures that store jobs will not be lost forever
while the union calls her a scab,
a traitor to her God, her country, her family and her class.

The day grocer pays taxes and helps the store to do so
while the government condemns her and takes her job away.

Yet the day grocer is no less important
than the stockholder, the union steward, or the bureaucrat.
Without her there would be
no stores, no jobs, no tax revenues, no firefighters
Condemned for working?
If she receives nothing else,
the day grocer deserves our respect.